---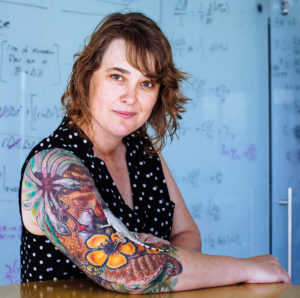 Dan Edwards
(Principal Investigator) 
Dan has wide ranging interests in understanding the processes that generate diversity and drive speciation. As such, her research combines genetic/genomic, phenotypic, ecological and (more recently) behavioral inquiry to attack a range of questions in evolutionary biology. She is passionate about herpetofauna, has interests in applying integrative evolutionary research to conservation, and loves arid environments. As a first generation college graduate and woman PI, she is also committed to increasing diversity in STEM and is the faculty advisor for W-STEM. Dan is also a mum, member of an academic couple, and loves hiking, riding bikes, drinking beer, hanging with her friends, listening to punk music and jamming on the odd occasions she can. Photo by Elena Zhukova for UC Merced.
---
Marie-Claire Chelini 
(UC President's Postdoctoral Fellow, Fall 2016 – present)
Marie-Claire is fascinated by morphological and behavioral differences between females and males. She blends ecology, physiology, and evolution to understand how and why does sexual dimorphism evolve. More specifically, she is interested in 1) identifying the evolutionary drivers of phenotypic divergence between the sexes and 2) understanding the proximate mechanisms that underlie and mediate the expression of sexual dimorphism. Most of her research so far focused on arachnids (especially crab-spiders), but she is thrilled to start exploring sexually dimorphic traits in lizards as a post doc in the Edwards lab! Marie-Claire started her UC President's Postdoctoral  Fellowship Fall 2017, but has been an Edwards Lab Member from Fall 2016.
---
Kinsey Brock
(Doctoral Student, Fall 2015 – present)
Kinsey is interested in the genetic, behavioral, and environmental mechanisms underlying adaptive evolution in lizards. Her master's thesis focused on the evolution of antipredator behavior in an island lizard species, where she used behavioral and historic geomorphic data to model the erosion of antipredator defenses with isolation from original predator regimes. For her PhD research, she hopes to combine molecular, behavioral, and landscape data to study species' responses to environmental change.
---
Megha Suswaram 
(Doctoral Student, Fall 2016-present)
Megha's interests are very broad, but she is mostly interested in understanding the behavioral ecology of animals. Including mate choice, bi-parental care, decision making, as well as understanding how morphological, physiological and behavioral adaptations have evolved. She has worked on research into field cricket mating behavior and models of mate choice, and her master's research focussed on burying beetle social behavior, parental investment and sperm competition. She is still figuring out what she wants to do with lizards for her PhD!
---
Laura Van Vranken 
(Doctoral Student, Fall 2016-present)
Laura is interested in conservation biology, particularly spatial patterns and ecology, and she is excited to make the transition to conservation genetics. Laura has previously worked on long-term population studies monitoring spotted owls and Pacific fishers in the central Sierra Nevada. As part of her project she is working with Yosemite National Park on their reintroduction of western pond turtles in to Yosemite Valley, and her research will focus on an in-depth look at the source populations in relation to landscape genetics.
---
Indiana Madden 
(Undergraduate Researcher, Summer 2016 – present)
Indiana is a third year undergrad majoring in biology at UC Merced, and has been with us since her freshman year. She hopes to use her major to eventually pursue a career in animal health as she has a deep interest in evolutionary biology, immunology and animal science. Her hobbies include painting, drawing, yoga and astronomy. She is the first woman in her family to pursue a career in a STEM field and she hopes to influence more young women to do the same.
---
Kaithlen Zen Pacheco 
(Undergraduate Researcher, Spring 2017 – present)
Kaithlen is a 4th year UC Merced undergrad majoring in Ecology/Evolutionary Biology. She took a growing interest in evolutionary biology as it combined two of her favorite topics to study: evolutionary genetics and animals. From furry little mammals such as hamsters and marsupials to centipedes, millipedes, and tarantulas, Kaithlen is eager to work with them all. She is particularly intrigued to study the consequences of various environmental factors on certain species. With this degree, she hopes to eventually pursue higher education or research along the lines of conservation biology, evolutionary biology, or behavioral ecology. She is excited to be the first member of her family to study at a UC and work for a bachelor of science degree.
---
Robert Degen 
(Undergraduate Researcher, Summer 2017 – present)
Robert is a 4th year undergrad with an emphasis in Ecology/Evolution and a heart for conservation. His interest in evolutionary biology stems from his love of animals and a desire to learn more about them, including how they evolve. This extends into a love for ecology as he hopes to see how the two disciplines can share ideas and work with one another. His ultimate goal is to work towards a master's degree and use his education towards future conservations efforts. As an outdoorsman who enjoys activities such as hiking, hunting, and fishing, he wants to preserve the world's natural beauty so everyone can enjoy it as much as he does.
---

Anthony Javiya
(Undergraduate Researcher, Fall 2017 – present)
Anthony Javiya is a second year undergraduate student at UC Merced studying Ecology and Evolutionary Biology. He possesses a keen interest in conservation biology and hopes to pursue research on how human-related disturbances affect species populations on an ecological and evolutionary level. His particular ecological interests are wide varied from marine ecology to jungle ecology, and he has a strong desire to explore wildlife from across the globe.  As for cultural interests, Anthony stays adamant about his love for the Oakland A's, Yosemite, and all things Jurassic Park, despite its biological inaccuracies.
---
Alumni
Postdoctoral Scholars
Justin Yeager (2016-2018)